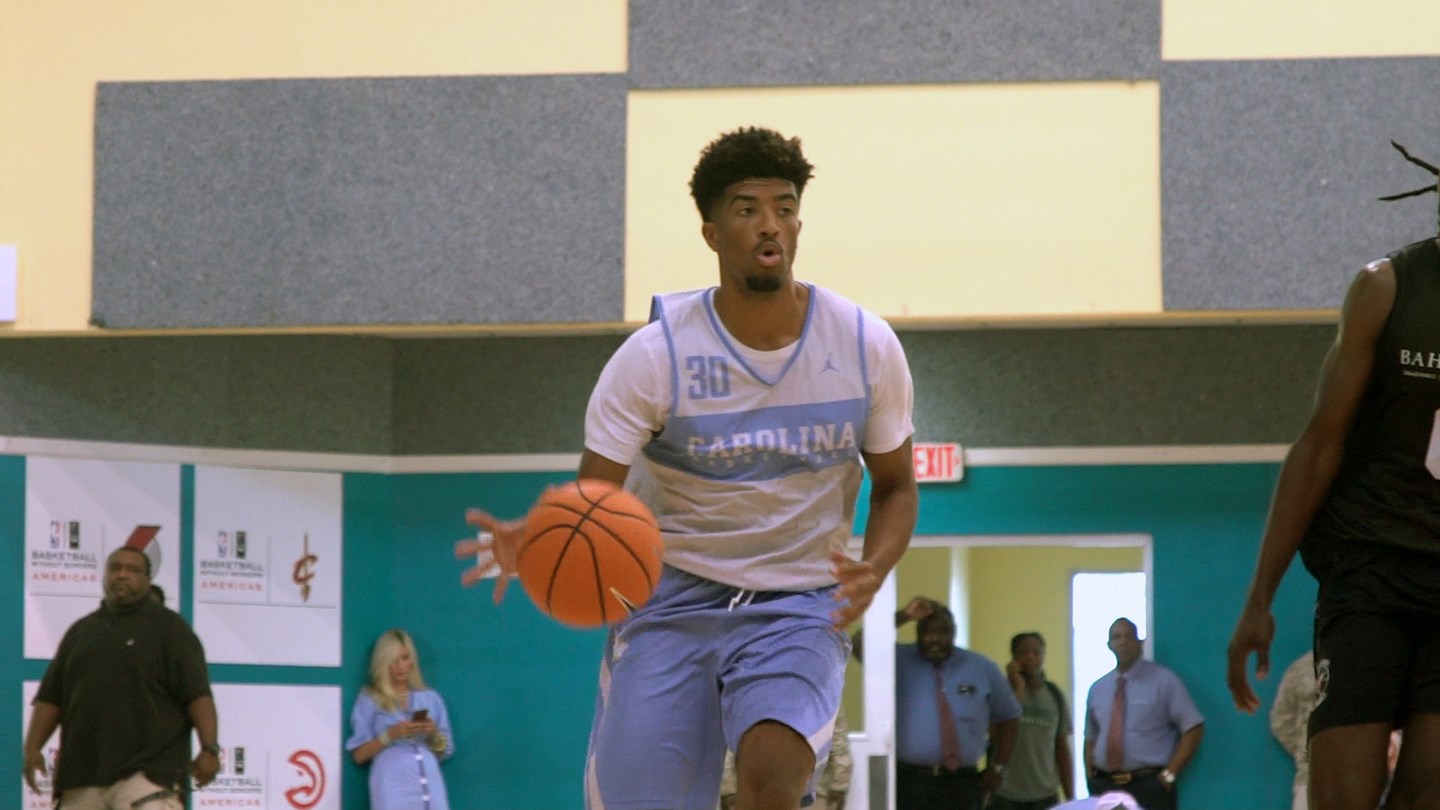 K.J. Smith and the UNC Tar Heels
Article Published by: goheels.com
When K.J. Smith scored the first official bucket of his Carolina career on Friday night at Elon on a slick hesitation play, it was only natural to assume he'd learned that move at home.
After all, his father is Carolina standout Kenny Smith, one of the best point guards in Tar Heel history and a two-time NBA champion with the Houston Rockets.
But the elder Smith, who was in attendance at Elon on a rare chance to see the Tar Heels play in person, knew immediately where his son had picked up that particular ability.
"That wasn't the Kenny Smith move," said K.J.'s dad. "That was the Steve Smith."
As it turns out, he wasn't kidding.
"Steve Smith (former Michigan State star and 14-year NBA standout) taught me that when the NBA All-Star Game was in Los Angeles (in 2011)," K.J. confirmed.
It's true that it hasn't exactly been a traditional path to Chapel Hill for K.J. Smith, who transferred from Pacific and sat out last year due to NCAA transfer guidelines. But it's also true that he doesn't seem to have taken it for granted. He recognizes that most players didn't get weekend tips from NBA stars during their down time on All-Star weekend.
Around the Smith house, they talked this summer of it being "harvest season." Two of K.J.'s sisters have already appeared on television shows and Kayla Brianna Smith is a burgeoning recording artist.
"Our new phrase in the house has been 'harvest season,'" Kenny Smith said on Friday night. "It's not just K.J. Everyone in the house has put in the work, and now it's time to pick the fruit."
It's K.J. who will be most immediately associated with his father. He's wearing the number-30 jersey made famous by his dad in Chapel Hill in the mid-1980s, and there are times his gait on the court looks very reminiscent of the former Tar Heel guard.
Kenny has plenty of basketball obligations during the NBA season with his Emmy-winning work on Inside the NBA, the best studio show in sports. But he still finds time to watch every Carolina game.
Whether he watches as a fan, as a dad, or as an analyst—he'll once again have NCAA Tournament studio responsibilities in March—depends on the particular day, as does his practice attendance.
"When I go to practice, I let Coach Williams know whether I'm coming as a dad or as a former player," Kenny Smith says. "When I'm going as a dad, I sit up top. When I'm there as a former player, I sit down low, because I'm not really watching just K.J. when I'm there in other roles."
He was there as a dad on Friday night. As soon as K.J. checked into the game, Kenny immediately started filming on his cell phone from behind the UNC bench, just like a normal parent.
K.J.'s experience at Carolina has taught the Smith tandem they have more things in common than just basketball. Last week, Kenny wanted to grab breakfast with K.J. to take advantage of his time in Chapel Hill. "Where are we going?" Kenny asked.
"Ye Olde," K.J. replied, referencing Ye Olde Waffle Shoppe, a Chapel Hill institution that has been in business nearly 50 years. "I eat there at least three times a week."
"Really?" Kenny said. "I used to go there four times a week."
There will be another Smith in attendance tonight, as K.J.'s grandfather plans to be in the Smith Center for the Stanford game, just as he was almost every time Kenny played for the Tar Heels for four seasons from 1984-87. And don't be surprised if you see Kenny behind the Carolina bench every opportunity he gets this year. It's not difficult for him to separate watching his son as a dad and watching his son as a former player and analyst.
"I'm always a dad first," Kenny says. "If you have a great NBA career, it might last ten years and then it's over. Being a dad lasts forever."
---
About Scott Livengood
Scott Livengood is the owner and CEO of Dewey's Bakery, Inc., a commercial wholesale bakery with a respected national brand of ultra premium cookies and crackers.
Previously, Scott worked at Krispy Kreme Doughnuts for 27 years, starting as a trainee in 1977. He was appointed President of the company in 1992, then CEO and Chairman of the Board.
Scott has served on numerous boards including the Carter Center, the Calloway School of Business and the Babcock School of Management, Habitat for Humanity of Forsyth County, and the Winston-Salem Chamber of Commerce.
He started a new business, StoryWork International, in 2016 with Richard Stone. The signature achievement to date is LivingStories, a story-based program for improved patient experiences and outcomes in partnership with Novant Health.