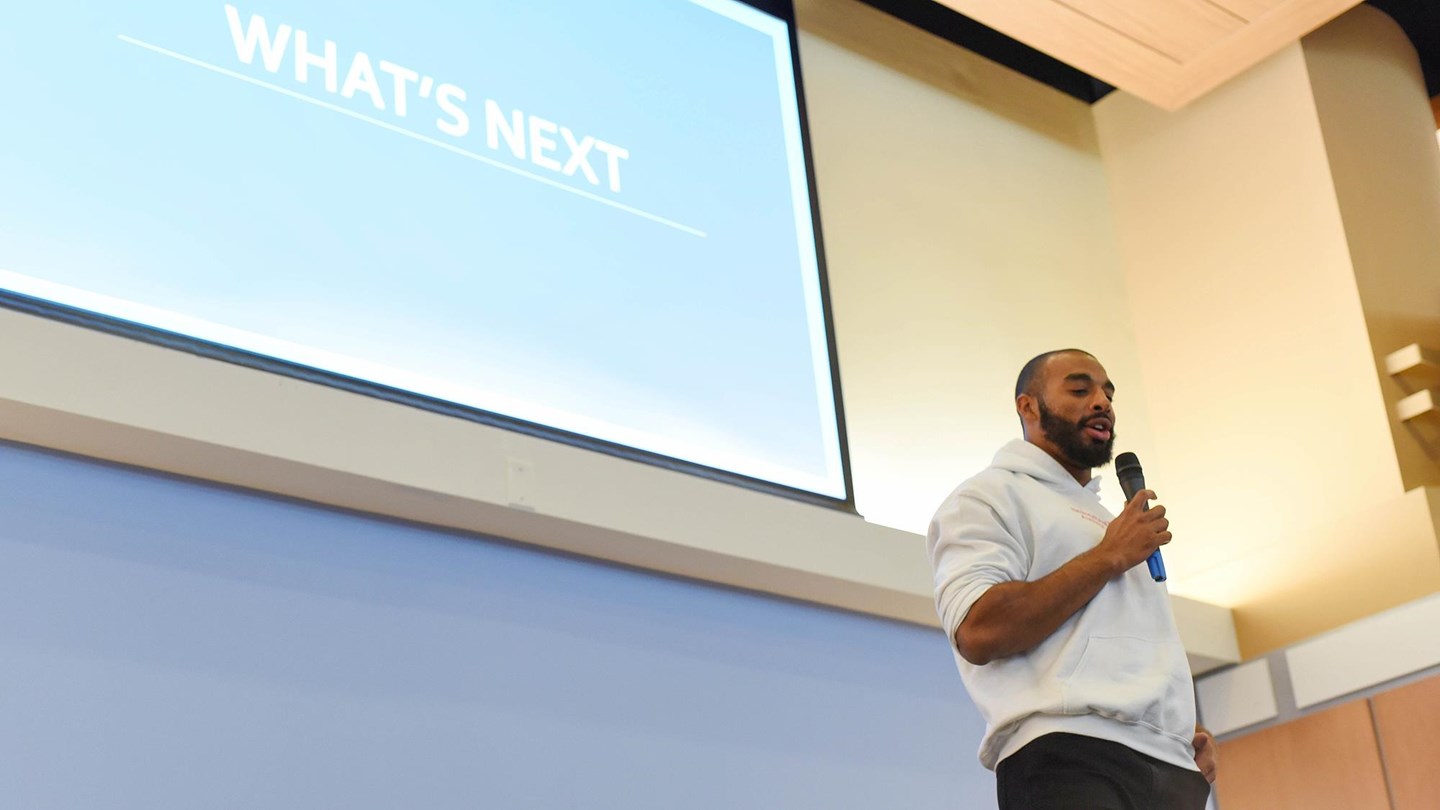 GOHEELS EXCLUSIVE: MAKING MENTAL HEALTH A PRIORITY
Article Published by: goheels.com
By Pat James, GoHeels.com
From the moment she began providing performance enhancement and psychological services to Carolina student-athletes in 2014 until now, Dr. Jeni Shannon has noticed how people across the country and at UNC are becoming more open about mental health.
Yet, there's still a great deal of stigma around it.
To change that, Shannon, the director of the Carolina Athletics Mental Health and Performance Psychology Program, says it's critical to continue conversations about mental health, not only on Thursday – which is World Mental Health Day – but every day. And she's doing all she can to ensure they get started among Tar Heels.
On Oct. 1, several student-athletes, coaches, administrators and staff members gathered in the Blue Zone Concourse Club for the third UNC Student-Athlete Mental Health Forum. During it, five student-athletes shared stories about their mental health journeys in a TED Talks format. A mental health resource fair was also held beforehand.
Although the previous two forums drew large crowds, Shannon said she had some concerns about the attendance for this month's event. But once again, she was pleasantly surprised to see how many people showed up.
"I'm thrilled when I see that," Shannon said, "because I think it just speaks to how much this athletic community cares about mental health, cares about their friends who are willing to speak out about it, is interested, is willing to give their evenings to be here.
"Every time we've had the event where we've had a strong turnout, I think that's one of the most encouraging things to me, that people care and that they're showing up and that, likely, something that they heard will resonate."
This marked the first time that the forum began with a mental health resource fair. The brainchild of academic counselor Jennifer Bryant, it featured about 20 campus, community and national mental health organizations, including Counseling and Psychological Services (CAPS) and Student Wellness.
Before Brendan Carr became UNC's second full-time sports psychologist in August, Shannon had a wait list and sometimes had to refer student-athletes to CAPS and Student Wellness. She hasn't had to do that as much since Carr arrived. But in the likely event that she eventually does, she said she hopes the student-athletes who attended the fair will be willing to take advantage of the services that both organizations offer after meeting some of the people involved.
Shannon said it was also important to include student organizations.
"That was the other element we wanted to bring in," Shannon said, "not just resources for mental health services but also, 'Hey, if you want to get involved, if you want to start to make a difference in this, here are some different avenues to do that, as well.'"
For the second straight time, the forum was modeled after the TED Talk format, with each student-athlete taking the stage for at least five minutes. Women's soccer, rowing, men's lacrosse, track and field/cross country, and football were the teams that were represented.
Each student-athlete's presentation had a different theme, but there was also some crossover. A few of the main points made were that choosing not to tie your self-esteem and identity to your athletic performance can help you be happier, healthier and even more successful; that it's more than worth the time and effort to address any mental health needs or concerns, even if that goes against the idea that athletes have to be tough and push through; and that there are people who care about you and talking to and listening to them will only help.
Other student-athletes are disseminating those messages on other levels, Shannon said. And that number continues to grow.
"I think the more the ball gets rolling, the more it does make it OK," Shannon said. "They've seen that for others it's been well-received. And they've seen the impact it's had or they've known the impact it's had on them, so then they want to make that impact on someone else.
"But I think that's one of the big culture shifts that we've had is through events like this, through a lot of our sports medicine staff making it a part of the conversation like physical health, through a lot of our academic counselors and Student-Athlete Development and Leadership Academy. We're integrating it a lot more than I think we used to, and I think that's also part of it, too. It's become a much more normal part of the conversation than it was five years ago."
And the more people talk about mental health, the more likely it becomes that the stigma around it will be eventually eliminated.
---
About Scott Livengood
Scott Livengood is the owner and CEO of Dewey's Bakery, Inc., a commercial wholesale bakery with a respected national brand of ultra premium cookies and crackers.
Previously, Scott worked at Krispy Kreme Doughnuts for 27 years, starting as a trainee in 1977. He was appointed President of the company in 1992, then CEO and Chairman of the Board.
Scott has served on numerous boards including the Carter Center, the Calloway School of Business and the Babcock School of Management, Habitat for Humanity of Forsyth County, and the Winston-Salem Chamber of Commerce.
He started a new business, StoryWork International, in 2016 with Richard Stone. The signature achievement to date is LivingStories, a story-based program for improved patient experiences and outcomes in partnership with Novant Health.