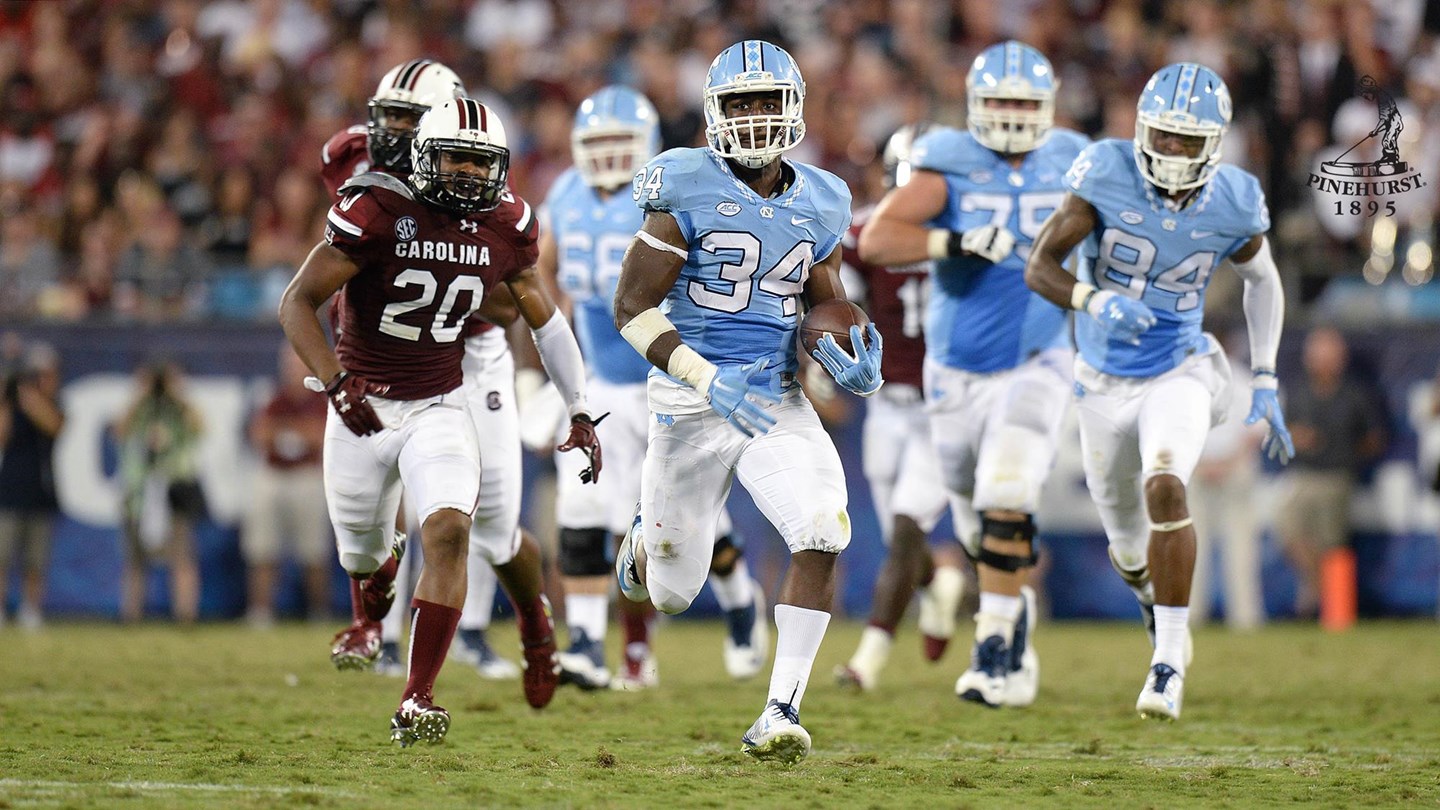 EXTRA POINTS: NORTH & SOUTH
Article Published by: goheels.com
Carolina blue vs. garnet and black. Tar Heels vs. Sandlappers. Smoked pork with vinegar and hot pepper (any maybe some ketchup) vs. a mustard-based sauce. Jesse Helms vs. Strom Thurmond. Eric Church vs. Hootie & the Blowfish. Grandfather Mountain vs. Hilton Head Island. Hurricane Fran vs. Hurricane Hugo. ACC vs. SEC. Christmas trees vs. peaches. Frank McGuire as a Tar Heel (1952-61) vs. Frank McGuire as a Gamecock (1964-80).
This rivalry of the Carolinas revs back into high gear this week when the Universities of kick off their respective football seasons at 3:30 p.m. in Charlotte's Bank of America Stadium. The game is part of a two-game series announced in 2015 for the Belk College Kickoff Classic (the second game will be played in 2023).
Oftentimes coaching transitions have loomed over Tar Heel-Gamecock collisions. Two Mack Brown comings have been inaugurated by these "border war" collisions. One Steve Spurrier going played into the 2015 matchup.
This series of next-door neighbors and one-time conference opponents has been through a handful of phases:
* The formative days of football at each school in the early 1900s when, in their first 10 meetings, the Tar Heels won eight games, tied two and outscored the Gamecocks 195-22.
* The nearly three decades of both schools being original members of the Southern Conference (1921-53). The Twenties might have been roaring by some standards, but the Tar Heels and Gamecocks played numbing football games, with four games over the 1925-28 stretch having a total of five touchdowns combined. The 1928 game was a 0-0 tie played in pouring rain in front of 6,000 fans in Kenan Stadium.
* The two decades of competition when both institutions moved into the newly formed Atlantic Coast Conference in 1953, extending through South Carolina's exit to become an independent following the 1970-71 academic year. By then the Tar Heels had a 29-11-4 record against the Gamecocks, and that record was skewed at the end by the Gamecocks winning the last four—which coincided with Coach Bill Dooley's first four years at Carolina.
"Some people felt South Carolina was our biggest rival behind Duke at that time," says Moyer Smith, a Tar Heel back from the late-1950s and later an assistant coach on Dooley's staff. "We had some hard-fought games against them. Columbia was a tough place to play, even before they added on the upper decks in the Seventies. I remember the bleachers starting so low to the ground that, to help people behind the team benches to see, they literally dug trenches along the sideline and they put the benches down in the trench. You stepped down from the field into the trench to sit down. It was that way on the home and visitors' sides."
* Then followed a six game non-conference series of home-and-home games played from 1974-81. The Tar Heels during Dooley's final years through 1977 and Dick Crum's first four teams had the upper and won four of six games.
* Another four-game home-and-home series ensued from 1988-91. Those games coincided with the arrival of Brown as the Tar Heels' head coach in 1988. The South Carolina mid-1980s program was clicking under head coach Joe Morrison and the Tar Heels were struggling—ergo the dismissal of Crum after the 1987 season. The Gamecock program had the upper hand over that era, winning three of four.
But the Tar Heels' 21-17 win over the Gamecocks in Kenan Stadium late in the 1991 season was a prescient indicator of Brown's maturing program.
Carolina was 5-4 in mid-November, and freshman QB Jason Stanicek had taken off his red-shirt to spark the Carolina offense the last month of the season. The Tar Heels were up 21-14 midway through the second half when Scott McAlister hammered a 63-yard punt that was fumbled at the goal. The original call was that Robert Brooks fumbled the ball as he was hit by Ray Jacobs, then fell on it in the end zone for a safety. But the ruling was overturned and deemed a touchback. A key officials' call was the Tar Heels' death knell against the Gamecocks two years earlier in a 27-20 loss; on this day, the Carolina defense girded and forced two three-and-outs and Brown beat his good friend, Gamecock coach Sparky Woods, by four points.
"You've got to be able to overcome that adversity," Tar Heel receiver Joey Jauch said. "In the past we probably wouldn't have been able to do that. Look at what happened two years ago. But today the defense rose up, and that shows leadership and experience."
* Tar Heel AD John Swofford and his SC counterpart Mike McGee were friends and likely would have continued that series until South Carolina's entry into the SEC in 1991 and Florida State's into the ACC forced a change in each school's scheduling philosophy and priorities. The two Carolinas would not play again until what was originally set as a 2007-10 home-and-home series, with the 2010 game in Columbia delayed three years to 2013 to allow the Tar Heels a late-date reshuffling in 2010 to play LSU in Atlanta to open the season.
The 2007 game in Kenan was one of the most anticipated in years and one of the hardest tickets of the Butch Davis coaching era given the 16-year hiatus between the programs and the return of Steve Spurrier to Chapel Hill. Davis vs. Spurrier was big-time. Spurrier was vilified among Tar Heel faithful for an assortment of gadget plays run in the fourth quarter of his Duke team's 41-0 win in Kenan in 1989.
The Tar Heels trailed 21-3 at halftime but rallied in the second half to lose 21-15 and fell to 2-5; they would finish 4-8, the only losing season in Davis's four leading the Tar Heels.
"We've come close too many times this season," quarterback T.J. Yates said. "We've just got to get over that hump. We've got to do something that gets us from getting those two-, seven- and six-point games and gets us a win instead."
* And, finally, there was the one-off Thursday night game in Charlotte to open the 2015 season. The Gamecocks' 17-13 win was notable as the Tar Heels' only loss of an 11-1 regular season. QB Marquise Williams threw three interceptions (two of them in the end zone) and sophomore tailback Elijah Hood, who rushed for 138 yards and an 11-yard per carry average, was inexplicably left on the sideline during a crucial fourth-quarter, redzone push.
A crowd of 51,644 and two teams left Bank of America Stadium that night knowing the better team lost. That would be proven out as the year evolved, with Spurrier resigning in October and the team 2-6 (it would finish 3-9)
That game even had the usually cocky Spurrier admitting, "I think the football gods smiled down on the Gamecocks. We're very fortunate."
Now we come to another game, another transition. Brown opened in Columbia as the Tar Heels' coach in 1988, dropping a 31-10 decision. Now his second tenure opens against South Carolina as well, only this time in Charlotte. It pits the Gamecocks of fourth-year coach Will Muschamp against Brown and the Tar Heels and poses an interesting dynamic of two coaches who worked together for three years at Texas from 2008-2010.
Brown hired Muschamp as his defensive coordinator in 2008. That November, with the Longhorns clicking along with a 10-1 record and chatter flying about potential head-coaching opportunities looming for Muschamp, Brown named him "coach in waiting." It was a way to more than double Muschamp's salary and, as Texas AD DeLoss Dodds said, "avoid the trauma" of a coaching search whenever Brown was ready to step down. But Brown said there was no impending retirement on the horizon, and after a 13-1 season in 2009 and stumble to 5-7 in 2010, the dynamics became uncomfortable for everyone involved. Muschamp left that year to become head coach at Florida.
"When there's a head coach in waiting, there's a lot of questions that go with it," Muschamp says. "First is, 'When is Coach Brown leaving? Second is, 'Do we really want this guy taking over our program?' And they're fair questions, and they're hard questions."
"That sent a message to people that I was ready to get out coaching, and that wasn't why we did it," Brown says. "Since that time, it wasn't as much fun because there was a thought, an underlying thought, that I was wanting to get out of coaching because of the move I made."
The dominoes tumbled from there. Muschamp was fired at Florida after four years, spent a year at Auburn and then hired at South Carolina. He's in year four and has a 22-17 record. Brown resigned at Texas in 2013, spent five years in television and leaped back into coaching last November.
Muschamp is eager to show marked progress after three years. Brown says he's "reenergized" getting back into the game. It's all a fitting backdrop for another chapter of the battle of the Carolinas.
Chapel Hill writer Lee Pace (UNC '79) is entering his 30th year writing "Extra Points" and 16th reporting from the sidelines for the Tar Heel Sports Network. Follow him @LeePaceTweet and email him at leepace7@gmail.com.
---
About Scott Livengood
Scott Livengood is the owner and CEO of Dewey's Bakery, Inc., a commercial wholesale bakery with a respected national brand of ultra premium cookies and crackers.
Previously, Scott worked at Krispy Kreme Doughnuts for 27 years, starting as a trainee in 1977. He was appointed President of the company in 1992, then CEO and Chairman of the Board.
Scott has served on numerous boards including the Carter Center, the Calloway School of Business and the Babcock School of Management, Habitat for Humanity of Forsyth County, and the Winston-Salem Chamber of Commerce.
He started a new business, StoryWork International, in 2016 with Richard Stone. The signature achievement to date is LivingStories, a story-based program for improved patient experiences and outcomes in partnership with Novant Health.