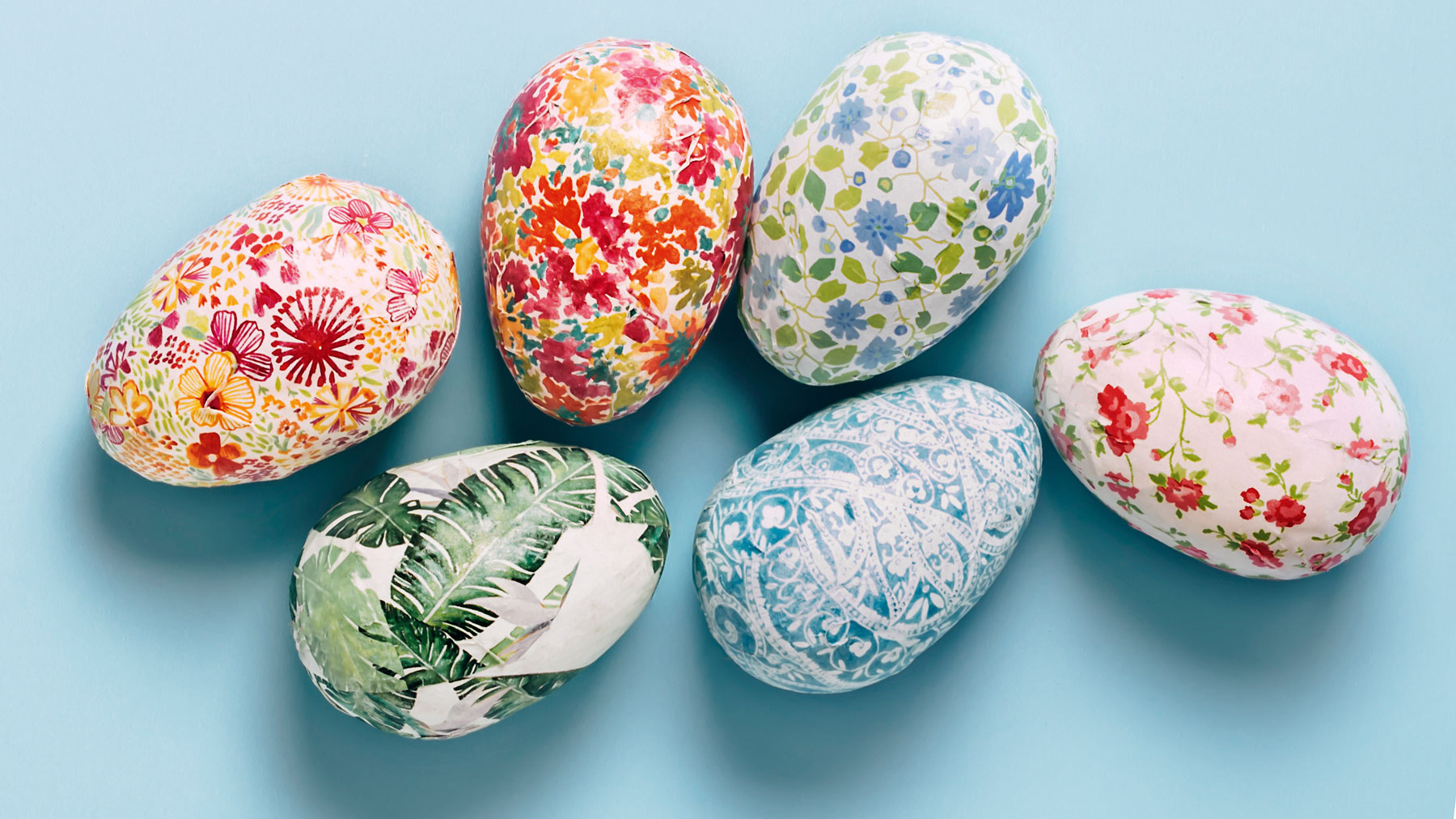 Don't Let Egg Shortages and Quarantine Ruin Your Easter Fun This Year—Here's How You Can Still Celebrate
Article Published by: realsimple.com
The normal supplies and opportunities may not be around this year, but you can still enjoy your favorite Easter traditions—just with a few twists.
Easter might look a little different this year. Sure, it still falls on Sunday, April 12, as scheduled, but with physical or social distancing recommendations in place past Easter Sunday, family Easter games and Easter dinner (not to mention your Easter church service, if you typically attend) won't look the same as they have in years past.
The holiday's roots remain the same, but many classic Easter activities—including Easter egg coloring—are likely to be affected by supplies at your area stores, the space constraints of your home, and the crafting supplies you have on hand from last year. According to a new survey from personal finance site WalletHub, Easter spending is down, and 70 percent of people in the U.S. celebrating Easter this year plan to do so at home; last year, only 25 percent stayed home.
This may not be the year of new Easter outfits for the whole family or your most creative Easter egg designs yet, but you can still celebrate: Here are six ideas for celebrating Easter at home this year. Sure, it may not be what you're used to, but you and your family will be all the safer for it.
1
Change the way you dye eggs
For many families, dyeing Easter eggs together is an annual tradition. This year, though, fresh eggs may be hard to find on grocery store shelves as people stock up unnecessarily. Also, if you do have fresh eggs at home, you want to preserve them for eating, not decorating or crafting. (For best results, avoid dyeing eggs and then eating them later. Not all dyes or decorating tools are food-safe, and even though they're on the shell, it's better to be safe than sorry.)
Instead, consider using Styrofoam eggs or another type of crafting egg. These eggs can be ordered straight to your door—you want to avoid unnecessarily trips to the store—and decorated with markers, crayons, and more tools you likely already have around the house. Best of all, you can save your favorites (and any extra, undecorated eggs) for next year.
2
Do an alternative egg hunt
Setting the kids loose on a field or playground dotted with eggs isn't really social distancing, especially if you typically do it as a group with other families. Instead, if your home and yard have the space, tuck eggs around your house for your kids to find.
For a larger egg hunt, get in touch with your neighborhood group text or homeowners' association. Ask all participating families to decorate large Easter eggs on paper and then tape the paper eggs into windows facing the street. On Easter Sunday, families can head out in cars, on bikes, or on foot—careful to keep their distance from one another—to try and spot all the eggs in the neighborhood.
3
Rethink Easter baskets and gifts
The overflowing Easter baskets of years past may not be possible this year, either because money is tight or you're unable to visit your go-to stores to pick up all the supplies and gifts. (Online delivery may not be as speedy as you'd like this year, either.) Save the big adult Easter basket for next year: Consider tucking homemade sweets into baskets or fill them with print-outs or drawings of the Easter gifts you plan to order or buy once businesses are open again. (Consider it an IOU from the Easter Bunny.) If you can, for Easter gifts for kids, focus on digital gifts you can enjoy in the moment: Buy and download a new movie or new game for them to enjoy at home.
4
Order in for your Easter dinner
If you typically go out for Easter brunch or dinner—or head to Grandma's for her Easter specialties—don't take it upon yourself to cook a multi-course meal. You want your groceries to last as long as possible, and taking a trip to the grocery store just to pick up extra eggs and potatoes for your Easter spread isn't worth the risk.
Instead, consider supporting local businesses. Call around to see if any restaurants are offering a to-go or delivery special for Easter meals. (Chances are, at least one place is.) Place your order a few days in advance so the restaurant is prepared and get ready to enjoy your meal with minimal prep or stress on your part.
5
Focus on small-scale Easter games
A bunny hop race or Easter egg toss may not be possible this year if you don't have the supplies, numbers, or space (or all three). Focus on games—beyond the egg hunt—your family can play together, such as guess the number of jelly beans or Easter egg basketball, even if you only have one or two kids in the family.
For older kids, consider giving your favorite family games an Easter spin: Play Scrabble with all Easter- or spring-themed words, for example.
6
Adjust your expectations for your Easter service
If your Easter celebration includes a religious component, think carefully about attending church services. Many states, counties, and cities have banned all group gatherings, but WalletHub's survey says 56 percent of people who attended Easter services last year would attend this year if services were held. Even if your church does still hold a service—some are skirting federal recommendations to do so—consider if attending is the safest option for you and your family (and others attending).
You can stay connected with your church on Easter by checking to see if it's hosting a digital service: Many religious organizations have been offering online services, so do a little research online to find one you can stream.
---
About Scott Livengood
Scott Livengood is the owner and CEO of Dewey's Bakery, Inc., a commercial wholesale bakery with a respected national brand of ultra premium cookies and crackers.
Previously, Scott worked at Krispy Kreme Doughnuts for 27 years, starting as a trainee in 1977. He was appointed President of the company in 1992, then CEO and Chairman of the Board.
Scott has served on numerous boards including the Carter Center, the Calloway School of Business and the Babcock School of Management, Habitat for Humanity of Forsyth County, and the Winston-Salem Chamber of Commerce.
He started a new business, StoryWork International, in 2016 with Richard Stone. The signature achievement to date is LivingStories, a story-based program for improved patient experiences and outcomes in partnership with Novant Health.