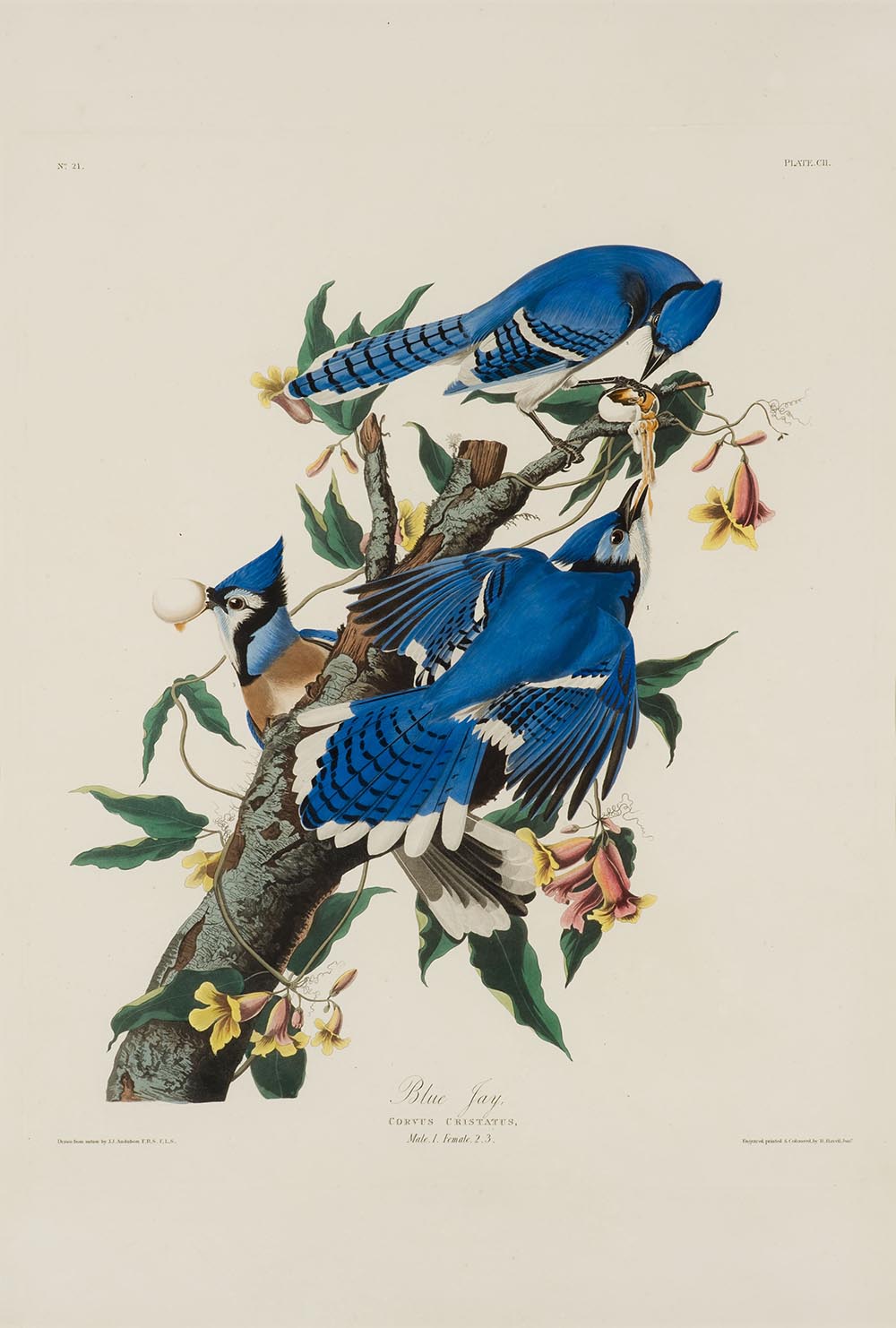 Blue Jay at Reynolda House Museum of American Art
Article Published by: reynoldahouse.org
Blue Jay demonstrates John James Audubon's mastery at creating lively compositions which he developed from both direct observation and the specimens he collected.
Engraved by Robert Havell after Audubon's original watercolor, it captures the villainous character of its subject with a restrained beauty. Plate no. 102 from the magnus opus The Birds of America, the image depicts two female and one male blue jay feasting on the eggs of an unidentified bird. The bottom of the print lists the engraver's name, bears the standard inscription, "Drawn from nature by JJ Audubon," and gives the scientific name of the bird, Corvus Cristatus.
In this disturbing scene, the cannibalistic act taking place has been sublimated by the sheer artistry of the composition. The brilliant blues of the jays are tempered by the complementary oranges of the trumpet vine flowers that twist around the dead branch on which the birds perch. The action of the scene is similarly restrained through a closed composition in which the birds are positioned in a cyclical arrangement. Within this tightly controlled image, Audubon's role as naturalist is apparent; the birds are rendered with a convincing realism. His genius lies not only in his skill as a draftsman but also in his ability to portray empirical detail through the illusion of living creatures engaged with their natural environment.
Spread wings, strained necks, and beady black eyes contrast the beautiful blue plumage and elegant form of Audubon's blue jays. The original sketch for the plate was drawn in 1825, at which time Audubon wrote, "Who could imagine that a form so graceful arrayed by nature in garb so resplendent, should harbor so much mischief—that selfishness, duplicity, and malice should form the moral accompaniments of so much physical perfection!" [1]
Notes:
[1] Danny Heitman. A Summer of Birds: John James Audubon at Oakley House (Baton Rouge: Louisiana State University Press, 2008), 36.
---
About Scott Livengood
Scott Livengood is the owner and CEO of Dewey's Bakery, Inc., a commercial wholesale bakery with a respected national brand of ultra premium cookies and crackers.
Previously, Scott worked at Krispy Kreme Doughnuts for 27 years, starting as a trainee in 1977. He was appointed President of the company in 1992, then CEO and Chairman of the Board.
Scott has served on numerous boards including the Carter Center, the Calloway School of Business and the Babcock School of Management, Habitat for Humanity of Forsyth County, and the Winston-Salem Chamber of Commerce.
He started a new business, StoryWork International, in 2016 with Richard Stone. The signature achievement to date is LivingStories, a story-based program for improved patient experiences and outcomes in partnership with Novant Health.