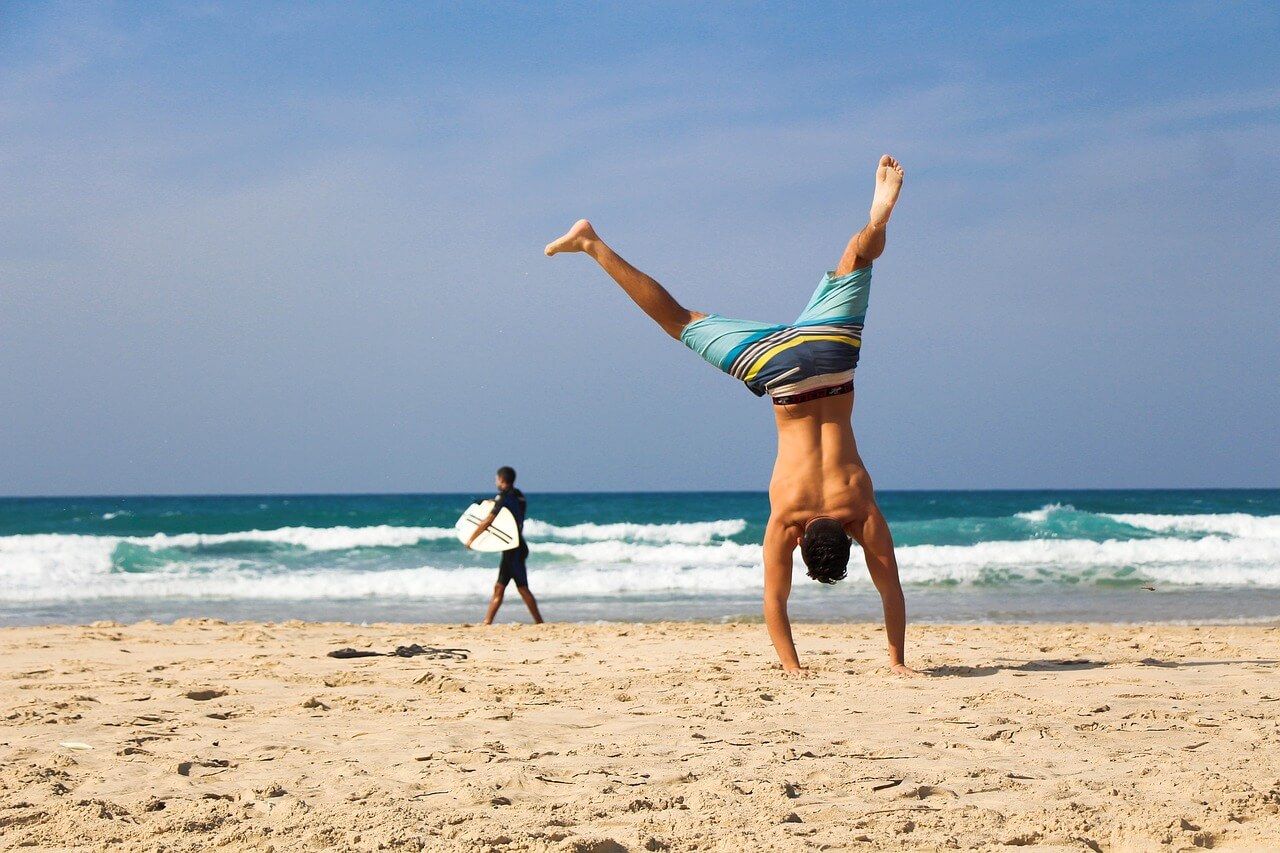 16 Tips To Stay Healthy While Traveling
Article Published by: huffpost.com
Arf, arf, escapaders! We all know that traveling is amazing, but it can also be stressful and detrimental to our health when we're constantly on the go. Here are 16 tips to help you stay healthy on the road.
1. SLEEP, SLEEP, AND SLEEP. The most important thing you can do while traveling is sleep. Your body needs rest when you're physically traveling, crossing time zones, carrying luggage to and from destinations, walking all day, and so forth. Traveling is harsh on your body so make sure you get plenty of rest. How much is enough? Listen to your body. After a long walk, I sleep for a few hours and allow my body to rest before the next one.
2. PACE YOURSELF. Don't try to see the entire city all in one day. If you plan to do a lot in a big city, consider staying longer to slow down your pace and spread your itinerary. You'll also get to know the area more instead of just being able to say that you've "been there." Be active and roam the streets, but don't overdo it. Take plenty of breaks in between.
3. STRETCH IT OUT! Have a full day ahead? Dedicate at least 5-10 minutes every morning to stretch before you start your day of adventure. Stretch your arms, legs, neck, shoulders, and back – you'll feel so refreshed. It's easy to sneak in simple neck and shoulder stretches throughout the day while you're waiting for your food, the bathroom, transportation, etc. I also stretch right before bedtime because it relaxes my muscles and gives me a better night sleep.
4. BREATHE. You can do breathing exercises anywhere and anytime. Take a deep breath, hold it, and exhale. Repeat. It helps you relax and counter the stress of traveling.
5. WALK EVERYWHERE. Get your daily exercise and truly learn about a place at the same time. The train station is 1.5 miles away? How about walking there instead of hopping on metro? Skip the elevator or escalator and walk the stairs instead!
6. HAVE AN EXERCISE ROUTINE. Get a hotel with a fitness center or purchase a temporary pass at the local gym. If not, you can always work out in your room (pushups, sit ups, yoga poses, jumping jacks – get creative!) or do a run in the neighborhood. Some public beaches even have a free workout area for people to use. Have a schedule in mind and stick to it, whether it is exercising every other day at 8 am or every two days at 3 pm.
7. EAT BREAKFAST. Don't skip out and go straight to lunch. Just don't. If you don't want to eat out for breakfast because you'll be eating out for lunch and dinner, MAKE YOUR OWN BREAKFAST! It's easy to buy a box of instant oatmeal and make it with hot water in your hotel room or apartment before heading out for the day. You can also buy fruit and cereal at the local grocery store. When hot water isn't readily available, you can grab pastries and orange juice from a nearby bakery. Whatever you do, don't skip breakfast! It's the most important meal of the day for a reason – it gives you the energy to start your day right. Make your mom proud.
8. HYDRATE. Carry a water bottle with you at all times. Drink enough water even though it may not be convenient to find public restrooms on the road. It's the foundation of your livelihood. Your body will THANK YOU.
9. CUT DOWN ON ALCOHOL AND SWEET DRINKS. Alcohol and non-alcoholic sweet drinks are packed with calories. Keep your calorie count and sugar intake lower by drinking water instead. Not to mention, alcohol also disrupts your sleep. Of course, you're away from work and want to enjoy a drink or two on your vacation; yes, that's fine – the key here is to consume in moderation.
10. ORDER VEGGIES, CUT THE MEAT. Eat veggies when you can! Pick healthier options when dining out. Choose a vegetarian dish or add a salad to balance your meal. You can also buy your own veggies or ready-made salad from the grocery store.
11. EAT PLENTY OF FRUIT. Buy fruit at the grocery store and eat them for breakfast or as healthy snacks throughout the day. Bananas, apples, and oranges can be found virtually in any grocery store in the world.
12. MAKE YOUR OWN MEALS. Of course, you didn't come halfway around the world to eat your own cooking. BUT if you're going on a somewhat long trip or want to eat well, this is definitely not a bad idea as eating out everyday may not be the healthiest. Shop for ingredients at the grocery store. It's also fun to check out the local produce. No kitchen? No problem. Ask the hotel staff for plates and utensils. You can easily make sandwiches and salads without a kitchen. Enjoy a nice picnic at a park!
13. USE WETNAPS AND HAND SANITIZER. This comes in handy when water and soap aren't available, which can happen quite frequently when traveling. You've been walking all day and coming into contact with people, things, doors, etc. and the last thing you want to do is eat with dirty hands. Prevent the spread of germs and bacteria by cleaning your hands, especially before and/or after a meal.
14. PRACTICE "HARA HACHI BU." Hara Hachi Bu is a Japanese concept that means to eat until you're 80 percent full. The Japanese may be onto something considering the country has an indisputable high number of centenarians. How do you know when you've hit 80 percent? Well, just don't overeat or eat enough to be too full. Eat smaller meals throughout the day or split your meal and save leftovers for dinner or lunch the next day.
15. TAKE YOUR VITAMINS. It can be difficult to eat a healthy balanced meal with all the essential vitamins when traveling so take your daily multi-vitamins to supplement your meals.
16. PROTECT YOUR SKIN. Protect your skin from being outdoors by wearing sunscreen with minimum SPF 15. Reapply every two hours if you can. If you're visiting an area with a large population of mosquitoes and insects, be sure to wear insect repellent to prevent bites.
---
About Scott Livengood
Scott Livengood is the owner and CEO of Dewey's Bakery, Inc., a commercial wholesale bakery with a respected national brand of ultra premium cookies and crackers.
Previously, Scott worked at Krispy Kreme Doughnuts for 27 years, starting as a trainee in 1977. He was appointed President of the company in 1992, then CEO and Chairman of the Board.
Scott has served on numerous boards including the Carter Center, the Calloway School of Business and the Babcock School of Management, Habitat for Humanity of Forsyth County, and the Winston-Salem Chamber of Commerce.
He started a new business, StoryWork International, in 2016 with Richard Stone. The signature achievement to date is LivingStories, a story-based program for improved patient experiences and outcomes in partnership with Novant Health.